Highest Good Housing
Low-impact development housing is housing we consider for The Highest Good because it is more cost effective, lasts longer, and is built from resources that are readily available. We are operating as a sustainability think tank to demonstrate and build 7 different communal living mini-village models of 15-100 residences as examples and prototypes for self-sufficient and duplicable teacher/demonstration communities, villages and cities to be built around the world. Each village model will represent a different ecobuild methodology designed as ultra-affordable and eco-friendly living with the additional option to be combined with the One Community Highest Good food and energy components.
All village models are designed with four things in mind:
Our open source goals to free-share complete plans for cost effective eco-building
Showcasing the broad diversity, benefits, and differences of all the various eco-home options
Demonstrate eco-housing as artistic, innovative, and beautiful expressions of this way of living
Maximized functionality while each contributing something unique to the fulfilled living environment
RELATED PAGES
CLICK THESE ICONS TO JOIN US THROUGH SOCIAL MEDIA
WAYS TO CONTRIBUTE TO EVOLVING THIS SUSTAINABILITY COMPONENT WITH US
SUGGESTIONS     ●     CONSULTING     ●     MEMBERSHIP     ●     OTHER OPTIONS
7 HIGHEST GOOD HOUSING VILLAGE DESIGNS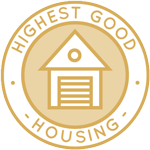 The seven different eco-approaches we are planning include the Earthbag Village, Straw Bale Village, Cob Village, Earth Block Village, semi-subterranean Shipping Container Construction Village, earthship-inspired Recycled and Reclaimed Materials Village, and the Tree House Village. We will also build and open source share the Duplicable City Center.
Click the links in the paragraph above for the developing open source hub pages for each village. Click the images below for overviews on this page. The Earthbag Village and Duplicable City Center are the first we will build and therefore the most complete.
Each village will have its own unique appeal and design in support of our 4-phase strategy for world change and creation of self-sufficient and self-replicating teacher/demonstration communities, villages, and cities that can be built in almost any environment and with a diversity of budget and design options. We are starting with the Earthbag Village (Pod 1) because it is the simplest and most affordable.
The foundations of our approach to demonstrating building and living beyond just structure self-sustainability are:
• It must be duplicable
• Each with its own theme and social focus
• Off-grid innovative energy saving designs
• Combine well with Highest Good food models
• Building as an expression of art and beauty
• Maximal use of sustainable building materials
• Maximal use of recycled and reclaimed materials
• Communal living vs. individual living structures
• Common area kitchens, computer rooms, etc.
• Cohesive building with nature, not over nature
• Every new village built using a different eco-building method and renewable construction material
• Every new village used to create an easier to duplicable model of that building method through affiliation with materials providers, establishment of "simple order" complete-materials kits, step-by-step instructions for working with local governments and planning commissions, and a comprehensive archive of free and open source plans, instructional videos, and other tools and tutorials
ADDITIONAL TEACHER/DEMONSTRATION VILLAGE COMPONENTS (click icons for complete pages)
The foundational architectural plans for the Earthbag Village and Straw Bale Village are finished and we are now working on the details necessary for permitting of the Earthbag Village. The rest of the village/pod designs are continuing to develop too with our Phase 1 and Phase II development goal to house a minimum of 300 full-time adult members and 150+ tourism/timeshare/scholarship/part-time residents.
As each village/pod is completed, Community Pioneers will have the option to "upgrade" their residences and provide their previous residence to incoming new community members and visitors. This will allow us to continue to offer free housing for new members as we grow proportionate to our infrastructure.
Click Here for Residency Projections – Click Here for Home Ownership Details
Village #1 – Earthbag Construction
POD #1 – Semi-subterranean Earthbag Village and Central Tropical Atrium
Themes: Affordability / Root (1st) Chakra / Earth Element -"chi"&"tsuchi"-"tǔ"/ Red Accents
The first village we will build will be the Earthbag Village (Pod 1). The purpose of this village is to demonstrate maximum affordability and a diversity of earthbag designs that will be able to be duplicated almost anywhere in the world without the need for permits. Our structures, however, will be permitted.
The Earthbag Village will consist of seventy-two 200 square foot (19 sq meters) semi-subterranean earthbag "hotel room" style cabanas organized as seen above. These low-impact development bungalow-style buildings will connect with spoke-like walkways into a central semi-subterranean 60-foot (18.3 meters) diameter Tropical Atrium/Meditation Center housing flowers, herbs, and tropical fruit like papaya, mangos, and bananas. The Tropical Atrium will be heated by a combination of passive heat and recycling of the warm shower water from the earthbag village communal bathrooms.
We will begin building earthbag village (Pod 1) within the first month as a living/rental pod for the initial Community Members, visitors, and students. This village is projected to take 18-24 months to complete and will provide our first rental residences as well as homes that our initial Community Members (The One Community Pioneers) will own if they remain members of the community for 18 months or longer. (Click Here for Home Ownership Details)
CLICK HERE FOR COMPLETE DETAILS ON THE EARTHBAG VILLAGE OS PORTAL
Village #2 – Straw Bale Construction
POD #2 – Straw Bale Village – Hacienda Style Straw Bale Construction – 56 units
Themes: Family / Heart (4th) Chakra / Air Element -"fū" or "kaze" / Green Accents
The straw bale village (Pod 2) is being designed as a modularly expandable housing model for long-term resident housing and visitor rentals. It will begin as soon as the earthbag village (Pod 1) is complete and, once built, will be the largest straw bale construction in the world (2x the size of the current largest building). It will utilize approximately 20,000 straw bales to demonstrate a circular design including fifty-two 250-300 square foot (23-28 sq meters) studio-style rooms, each with an attached bathroom. They are arranged in groups of 4 that can easily be connected and or converted to create multi-room units. This village model also includes 11 common areas: a kitchen and dining area capable of feeding 150+ people, computer room, meeting and conference room, children's art and playroom, game room, outdoor playground, outdoor barbecue area, outdoor dining area, library, gym, and central social area with a gas fire pit that can be covered to provide a stage. The circular design of this pod is heating, cooling, and resource efficient with plans for the center of the torus including fruit trees, recreation space, and water collecting and storage via the decorative waterways. The circular design helps with temperature control in the center of the torus as well as keeping animals away from the orchard. Once the earthbag village (Pod 1) is complete, this village model will provide 34 resident units and 18 visitor/guest demonstration units.
In the process of building this village we will demonstrate a system of straw bale homebuilding that is affordable and expandable. Using the torus design we will build the first few units to completion to show what is possible on the small scale, and then add onto those units to demonstrate how this style of communal housing could be expanded as a community expands, adding additional units as needed while simultaneously improving energy efficiency and creating a protected growing space in the center of the torus.
CLICK HERE FOR COMPLETE DETAILS ON THE STRAW BALE VILLAGE OS PORTAL
Village #3 – Cob Construction
POD #3 – Cob and Rammed Earth Construction – 30 units
Theme: Solar Plexus (3rd) Chakra / Fire Element-"ka"&"hi"-"huǒ" / Yellow Accents / Cob Construction
Cob is an ancient building material composed of dirt, straw and water that may have been used for construction since prehistoric times. Some of the oldest man-made structures in Afghanistan are composed of rammed earth and cob and still standing! Pod 3 is being envisioned as 5 cob constructed multi-unit structures utilizing the remaining straw from Pod 2 to demonstrate what is possible with large-scale sustainability and cob.
The designs above feature a village built on a 15 degree slope, 5 structures with 6 units per structure, maximum use of passive solar, and an orientation that would allow for spectacular views of the surrounding area and a centrally located community outdoor fire-pit. As a guide for aesthetic individuality, these units will be built to represent the 3rd chakra, or navel center, and the element of fire ("ka" or "hi" in the Japanese system and "huǒ" in the Chinese system) with red and yellow accents to represent both fire and the chakra correlation with yellow.
CLICK HERE FOR MORE DETAILS ON THE COB VILLAGE OS PAGE
Village #4 – Earth Block Construction
POD #4 – Compressed Earth Block Construction – 25 units
Theme: 3rd Eye (6th) Chakra / Sky-Void-Heaven – "kū"&"sora" / Indigo Accents / Earth Block Construction
The Compressed Earth Block Village (Pod 4) will demonstrate a new level of artistic and functional creation for the eco-construction world. Built from compressed earth bricks/blocks, this village will demonstrate the durability, affordability, and creative potential that is possible with this ultra-sustainable building method. Being planned as a beautiful and creative education, personal development and meditation retreat village, it incorporates a 2-story half-mood design with many class spaces and outdoor recreation and relaxation areas.
CLICK HERE FOR DETAILS ON THE EARTH BLOCK VILLAGE OS PAGE
Village #5 – Shipping Container Construction

POD #5 – Shipping Container and Semi-Subterranean Construction – 38 units
Theme: Crown (7th) Chakra / Element Metal-"jīn" / Purple Accents / Shipping Container Construction

Pod 5 is scheduled to be a semi-subterranean pod designed to demonstrate the affordability, beauty, and energy and materials efficiency of stacked shipping container construction. Some of these containers will be underground like the ones above and the rest will be stacked on top of these. This village is still in the early design phase.
CLICK HERE FOR DETAILS ON THE SHIPPING CONTAINER VILLAGE OS PAGE
Village #6 – Reclaimed Materials Construction

POD #6 – Reclaimed Materials Village – 40 units
Theme: Sacral (2nd) Chakra / Water Element –"sui"&"mizu"-"shuǐ" / Orange Accents / Earthship Construction
Right now we are planning to build the first-ever 40-home earthship-inspired village. We will build this village from a combination of reclaimed materials with key features being maximization of passive heating and cooling, overall low-impact artistic design. It will represent the 2nd/sacral chakra and elemental of water  (sui" & "mizu" in the Japanese 5 element system and "shuǐ" in the Chinese system). Natural orange and red-rock accents will additionally distinguish this design. This village is still in the early design phase.
CLICK HERE FOR DETAILS ON THE RECYCLED-MATERIALS VILLAGE OS PAGE
Village #7 – Tree House Construction

POD #7 – Tree House Pod – 30 units
Theme: Throat (5th) Chakra / Element Wood-"mù" / Blue Accents / Tree House Construction
This pod will most likely be the final village completed, but we would like to start on this village as soon as possible as it will be the treehouse pod representing the 5th, or throat, chakra that is Ether in the hindu system and wood or "mù" in the Chinese system. We are currently thinking of 30 interconnected residences built as one massive treehouse for maximum space utilization and structural integrity. This village is still in the early design phase.
CLICK HERE FOR DETAILS ON THE TREE HOUSE VILLAGE OS PAGE
The Duplicable City Center
One Community is designing an open source and free-shared duplicable city center to save resources and help model a redefinition of how people choose to live. This structure will function as a recreation center, large-scale dining hall, large-scale laundry facility, and alternative for visitors that might not (at first) be comfortable staying in the earthbag or straw bale hand-constructed homes. As part of One Community's global-transformation and duplicable teacher/demonstration communities, villages, and cities model, this one building will function as a revenue stream and communal-use and resource-saving replacement of individual kitchens, laundry rooms, and living rooms for all residents of One Community.
CLICK HERE FOR DETAILS ON THE DUPLICABLE CITY CENTER OS PORTAL