One Community Welcomes Jessica Zynda to the Design Team
One Community welcomes Jessica Zynda to the Design Team as our newest Volunteer/Consultant!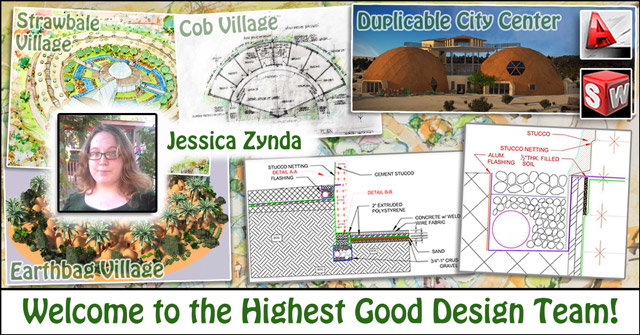 A.S. Computer Aided Drafting/Design: Jessica first learned engineering design in high school and expanded her skills in college using programs such as Pro-E, SolidWorks, and Inventor. Raised working at her family's tavern, she built a strong work ethic and was able to support her enjoyment for seeing people smile, working in customer service for over 10 years. Throughout this time she continued using AutoCAD and other drafting/design programs professionally and for hobbies. Always believing in a philosophy of waste not want not, Jessica has held the constant hope for a world where people have all their necessities met through efficient designs and resource usage and allocation. Jessica admires design and innovation and intends to further her education by engaging Industrial Engineering next. Hobbies include walking/spending time with her husband, abstract expressionism painting with watercolor, meditation, reading and learning, and using her AutoCAD skills to make 3-D maps for board games. As a One Community volunteer, Jessica is helping transfer sketches for the Earthbag Village (Pod 1) from hand drawings into AutoCAD.
WELCOME TO THE TEAM JESSICA!
FOLLOW ONE COMMUNITY'S PROGRESS (click icons for our pages)

INVESTOR PAGES
GET INVOLVED