Transition Kitchen
This page is the One Community transition kitchen page that shares the details for purchasing, setting up, and operating a kitchen capable of feeding up to 50 people in a remote location. This is purposed for use in any remote or off-grid construction situation like our planned crowdfunding campaign, the Earthbag Village and Duplicable City Center, initial food infrastructure, any of the other 6 village models, or similar.
For easy navigation, this page contains the following sections:
NOTE: THIS PAGE IS NOT CONSIDERED BY US TO BE A COMPLETE AND USABLE TUTORIAL UNTIL
WE FINISH THE CROWDFUNDING CAMPAIGN AND ADD ALL THE VIDEOS AND EXPERIENCE FROM
THAT BUILD TO THIS PAGE – IN THE MEANTIME, WE WELCOME YOUR INPUT AND FEEDBACK.
RELATED PAGES (click individual icons for complete pages)
CLICK THESE ICONS TO JOIN US THROUGH SOCIAL MEDIA

WHAT IS TRANSITION KITCHEN DESIGN
A transition kitchen is a temporary kitchen purposed for food preparation until a more permanent commercial kitchen can be established. We believe that, even in a temporary situation, creating meals from whole foods that will provide variety and enjoyment is important to maintaining a happy and productive team. This page and the associated menu and preparation pages share the details of equipment and food needs, cost, setup, and maintenance.
The transition kitchen is designed to feed up to 50 people a day, which includes 3 primary meals and snacks.
WHY  CREATE A TRANSITION KITCHEN
Having an efficient and affordable transition kitchen can save time and money while adding convenience and reducing waste. If created properly, it will also produce better tasting and more nutritious food and ultimately mean a happier and healthier building team. With this in mind, we see establishing a transition kitchen for feeding groups of 30+ people as essential to any remote building project expected to last for any significant period of time.
One Community needs a transition kitchen for both our upcoming crowdfunding campaign and our 7-villages build where the transition kitchen will be used as the primary kitchen until the permanent Duplicable City Center commercial kitchen is operational. Once the City Center kitchen is operational, the transition kitchen will then be used as a secondary food preparation center for setup close to each major building site.
WAYS TO CONTRIBUTE TO EVOLVING THIS SUSTAINABILITY COMPONENT WITH US
SUGGESTIONS     ●     CONSULTING     ●     MEMBERSHIP     ●     OTHER OPTIONS
KEY RESEARCHER FOR THE TRANSITION KITCHEN
Ana Flavia Almeida: Architecture and Urban Planning Student
TRANSITION KITCHEN STRUCTURE
The transition kitchen will be a temporary structure purposed for food preparation and dining for up to 50 people for three meals per day. When not used for cooking or dining, the structure may also serve as additional sleeping space. For this, we will be using a hexayurt design with a total area of ≈ 1,791.54 ft.
MATERIALS AND STRUCTURAL ELEMENTS
The Hexayurt is a simplified disaster relief shelter design. It is based on a geodesic geometry adapted to construction from standard 4×8 foot sheets of factory made construction material. It resembles a panel yurt, hence the name.
The pictures below show the 3D model of the kitchen we will build. Further down this page you will find the pricing and other details for complete replication of the setup.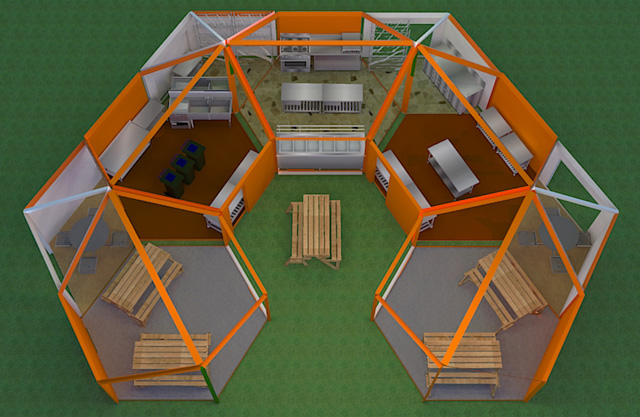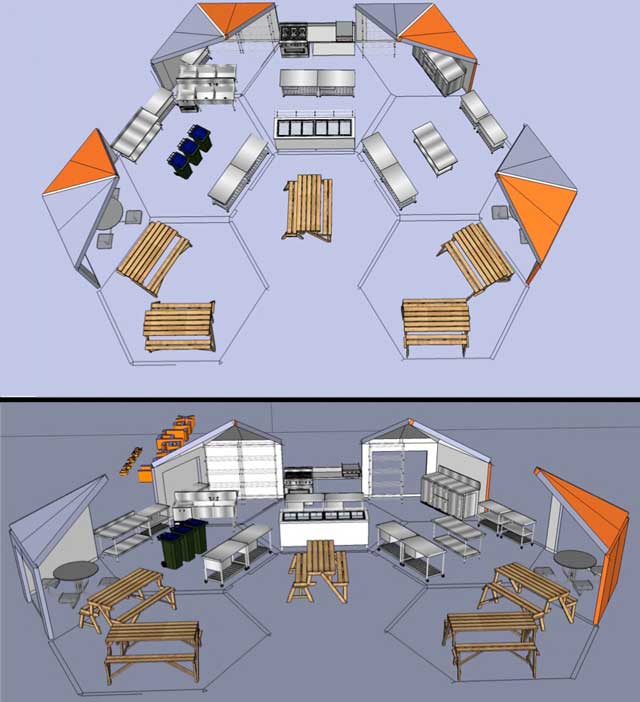 CONSTRUCTION PLANS
The basic construction principle is to use full sheets for the walls. Sheets cut from one corner to the opposite corner provide right triangles, as demonstrated in the image below. Each pair of right triangles can be assembled into an isosceles triangle that is 8 feet wide and 8 feet in height, thus forming a roof panel. For constructions made from light material the panels can be joined by tape.
Hexayurts can be made in a variety of sizes using simple tools. They can be made from industry standard 4′ x 8′ (1.2m x 2.4m) sheets with zero waste. Many different materials can be used, such as plywood, OSB, coroplast, composites, hexacomb cardboard or other honeycombs, and polyiso insulation boards, which are the chosen material for One Community's Transitory Kitchen design. Depending on your choice of materials, a Hexayurt can last for years or even decades.
As part of the upcoming crowdfunding campaign, when we are in construction phase, we will begin to provide the following videos, including a time-lapse video of the kitchen setup:
VIDEOS COMING OF: TEMPORARY KITCHEN DOME CONSTRUCTION, SETUP TIME-LAPSE, ELECTRICAL SETUP, AND KITCHEN EQUIPMENT INSTALLATION
SEE OUR HOW TO HELP AND/OR CROWDFUNDING CAMPAIGN PAGE TO HELP CREATE ALL THE TUTORIAL VIDEOS FASTER
Here are additional hexayurt construction resources and our assessment of their value:
CLICK THE IMAGES BELOW FOR
ACCESS TO THE RELATED DROPBOX DOWNLOAD LINKS*
* The information in these files is provided exclusively in accordance with our Terms and Conditions.
HEXAYURT COST ANALYSIS
The image below is a static image of a live Google spreadsheet for the complete hexayurt cost analysis. We update this spreadsheet as we continue development. To be sure you are viewing the most current data, click the image to go to the spreadsheet. Once there you can also click the related product links to view the product pages and confirm current pricing.
CHEAPER OPTION
The picture below shows a simpler alternative for a temporary transition kitchen structure, a 30′ diameter dome that costs about $2200 from Shelter-Systems.com.
One Community did not choose this dome for a few reasons. The first reason is that it is not large enough to fit 50 people, which will be the amount of people One Community is aiming to feed in it's first phase of development. The second reason is that we don't consider it durable enough for longterm use. The third reason was we didn't consider the materials durable enough for use as a kitchen with cooking equipment.
KITCHEN EQUIPMENT
The Transition Kitchen will have a variety of kitchen equipment available for use on a daily basis. We aimed to include a decent variety of tools so that we could create quite a large variety of different kinds of foods for our Pioneer Team. Our priorities for choosing the kitchen equipment included cost, customer reviews, and ensuring we have everything we need to consistently create healthy & delicious food. We discuss the kitchen equipment with the following sections:
EQUIPMENT DETAILS
The image below is One Community's best estimate of what will work for a transition kitchen for a crew of about 50 workers. We share our list here with the hope that it will act as a useful guide for saving you time, money, and make your experience setting up your own transition kitchen much easier. When undertaking a project and acquiring tools and materials, seek out those that best fit your situation. Quality of tools generally correlates with length of life. You may pay more for higher quality tools, but they will also last much longer, and in many cases prove to be a better value and more sustainable in the long run.
STAINLESS DOUBLE SINKS + DRAINBOARDS
12″ WALL MOUNTED SWIVEL FAUCET
DRY STORAGE SHELVING – 24" x 36" EQUIPMENT STAND
BUS TUBS FOR DISHES
SINKS FOR DISHES
STAINLESS WORK TABLE, 14 GAUGE
MOBILE WORK TABLE
HEAVY DUTY RANGE + OVEN
ELECTRIC COUNTER-TOP GRIDDLE
REFRIGERATOR
STOCK POT
ELECTRIC KETTLE
COMMERCIAL WORK TABLE, 18 GAUGE
COMMERCIAL WORK TABLE, 16 GAUGE
COMMERCIAL BLENDER
STAINLESS STEEL COLD TABLE
ELECTRIC STEAM TABLE
PRESSURE COOKER
TRASH CAN
ROUND PICNIC TABLE
FOLDING PICNIC TABLE
BUSSING TROLLEY
INSULATION BOARD
HEXAYURT TAPE 6″
HEXAYURT TAPE 3″
ALUMINUM TAPE
TARP
POLYESTER ROPE
ROOF BEAM
CLICK THE IMAGES BELOW FOR
ACCESS TO THE RELATED DROPBOX DOWNLOAD LINKS*
* The information in these files is provided exclusively in accordance with our Terms and Conditions.
EQUIPMENT IMAGES AND DESCRIPTIONS
A two compartment prep / pot sink with two drainboards is for large establishments. It has a multipurpose functionality and a durable design.

A 12″ long swivel spout faucet is made for use with any commercial pot sink. For optimum versatility, they easily swing from one compartment to the next to ensure proper separation between rinsing, washing, and sanitizing. Its wall-mounted design requires an 8″ center for proper installation.

A durable chrome wire construction enables the shelves to hold heavy items like canned goods and small kitchen appliances.

They're typically used for a variety of dry settings, including pantries, storage closets, and merchandising areas.

Stainless steel equipment stands feature a high weight capacity, and additional undershelf for storing both your equipment and the supplies that come with it.

A long table is capable of holding multiple griddles, mixers, and other essential pieces of cooking equipment.

Bus boxes are good for soaking flatware and collecting dishes. Polypropylene is typically used for it's durability.

Most are stackable and great for storage.

A stainless steel commercial work table is used for extra surface area for preparing food, drying dishes, or storing small appliances in a commercial kitchen. You can also store equipment and supplies on the under-shelf. Plus, a tabletop includes grooved, roll formed hat channels to provide maximum durability.

Mobile carts' topmost surface can be used to prepare anything from salads to baked goods. Tubular racks for bun pans allow transportation of large quantities of food at a time.

6.4 cu. ft. oven and a 5-element electric cooktop that includes two 7 in. elements, a 6-12 in. expandable element that adjusts to fit larger pots and pans, and a radiant warming zone. Express-Select control knobs let you easily select options and cooking temperatures, while a third heating element and a single convection fan circulate hot air throughout the oven for faster and more even multi-rack cooking. Variable broil options from 400-550°F.

A countertop griddle with a non-stick commercial cooking surface will help to expand the amount of available cooking surface, while making it easier to cook certain kinds of foods. A removable stainless steel splash guard is helpful to ensure the surrounding work area remains tidy and the food easily stays on the cooking surface.

A compact worktop refrigerator provides refrigeration and countertop work space simultaneously. A combination of stainless steel drawers and self-closing doors provides options to store a variety of items of different sizes. To provide quick, out of the way access, the upper pull-out drawers can fit pans.

With a 1/4 hp compressor, a CFC-free (R-134a) capillary tube refrigeration system provides high humidity storage, while maintaining temperatures between 35° and 38° Fahrenheit. To further optimize temperature control, each cabinet is insulated with CFC and HCFC-free 2″ thick foamed-in-place polyurethane insulation and a 2 1/2″ thick worktop.

Stock pots are used for anything from boiling vegetables, to cooking soups, to cooking rice. 40 qt. and larger stockpots are appropriate for preparing foods for larger groups. A heavy-duty steel and layered bottom help for durability and heat distribution.

A soup kettle warmer holds soups, gravies, stews, or nacho cheese at food-safe serving temperatures from 105-195° Fahrenheit. A stainless steel interior helps durability and clean up.

A short stainless steel commercial work table provides plenty of room on its work surface as well offering a stainless steel under-shelf to supply much needed space for storing supplies and other tasks.

A long all-stainless steel construction and a backsplash offers a durable option for rolling out dough or chopping fruits and vegetables. You can make the most out of limited counterspace by adding a versatile work table.

A commercial blender with a heavy-duty 3.5 hp motor makes blending fast and efficient. This can be used for blending anything from smoothies to soups, as well as a variety of other foods.

A three-well stationary cold food table is used for creating a cold food buffet. It can keep cold menu items chilled at safe and delicious temperatures. Heavy duty stainless steel legs with bullet feet help with durability and stability. A thick poly board on a stainless steel bracket provides a sturdy surface where people can place their trays or plates and load up their foods. The under-shelf can hold additional trays, dishes, or other items to quickly restock the buffet.

A three-well electric open-well steam table is used to keep food hot and ready to serve on a hot buffet. Adjustable legs can accommodate different types of floors. The under-shelf can be used for storage. A full-length cutting board provides a little extra work space for changing out food pans or filling plates. For optimum heating versatility and temperature retention, it is handy if each well is warmed by an independently controlled heating element. Fiberglass insulation between the wells allows for better heat retention and different holding temperatures for each well.

A 23qt aluminum pressure cooker can double as a handy large-capacity pressure cooker or as a boiling-water canner for preserving fruits, jams, jellies, pickles, and salsa. Heavy-gauge aluminum can help with fast, even heating and works on regular and smooth-top ranges.

A 30-Gallon Flip-Door Stackable Recycle Bin can help with sorting recyclables for large groups.

It is helpful to have stickers for individual sorting needs and a hood that snaps securely to the base.

A 44 in. Round Picnic Table with 3 Benches is helpful for fitting in smaller spaces and is easy to fold up and relocate or store.

This table can accommodate six people.

A 6 ft. Folding Picnic Table with Benches provides seating for multiple adults or children. This table is also light weight and easy to fold and relocate or store.

Utility carts are typically used for hauling bus tubs, food pans, plates, flatware, dry ingredients, and more.

A utility cart moves essential items from one room to the next.

Large sections of foam insulation board are used when building walls to help regulate the temperature inside of the building and help block wind.

6″ Hexayurt Tape covers large sections and the vinyl bifilament tape will not stretch or tear. The reinforced polypropylene with fiberglass threads in both directions provide a 220 lb. tensile strength.

3″ Hexayurt Tape covers small sections and the vinyl bifilament tape will not stretch or tear. The reinforced polypropylene with fiberglass threads in both directions provide a 220 lb. tensile strength.

Soft aluminum foil tape with aggressive adhesive offers malleable foil to conform to irregular surfaces. The metallic tape is great for heat dissipation and reflection. Acrylic adhesive stands up to high temperatures (200° F).

A heavy duty tarp with woven polyethylene fabric construction helps protect against weather and moisture. A tarp that is silver colored on both sides reflects sunlight, and one that also contains black yarns blocks sunlight from passing through. Rope-reinforced hems, rust-resistant grommets and plastic cap reinforced corners enhance strength and durability. Washable, reusable and recyclable tarps are ideal.

Polypropylene rope that is hollow is flexible, lightweight, rot proof, resists oil, water, gasoline and most chemicals. Warning: Knots reduce the strength of the rope up to 50%, splicing is preferable.

Be sure to read all of the warning and safety instructions for learning what this rope is and is not intended to be used for.

Durable steel 10′ length roof beams are used to help support and reinforce Roof Panels for rooms that are larger than 20′ x 10′.

They act as a panel stiffener to increase integrity of roofs.
EQUIPMENT SETUP
We will also be creating and including a detailed kitchen setup tour:
VIDEO COMING OF: HOW TO SETUP YOUR TEMPORARY KITCHEN
SEE OUR HOW TO HELP AND/OR CROWDFUNDING CAMPAIGN PAGE TO HELP CREATE ALL THE TUTORIAL VIDEOS FASTER 
We will also create a follow-up "Modifications" video to share changes we make after using the kitchen for several weeks:
VIDEO COMING OF: UPDATED KITCHEN SETUP – HELPFUL MODIFICATIONS FOR YOUR KITCHEN
SEE OUR HOW TO HELP AND/OR CROWDFUNDING CAMPAIGN PAGE TO HELP CREATE ALL THE TUTORIAL VIDEOS FASTER 
EQUIPMENT MAINTENANCE
VIDEO COMING OF: COMPLETE KITCHEN MAINTENANCE – KEEPING YOUR KITCHEN RUNNING SMOOTHLY
SEE OUR HOW TO HELP AND/OR CROWDFUNDING CAMPAIGN PAGE TO HELP CREATE ALL THE TUTORIAL VIDEOS FASTER 
COMPLETE COST ANALYSIS
The image below is a static image of a live Google spreadsheet for the complete kitchen equipment cost analysis. We update this spreadsheet as we continue development. To be sure you are viewing the most current data, click the image to go to the spreadsheet. Once there you can also click the related product links to view the product pages and confirm current pricing.
FOOD PRODUCTION SCHEDULE
In order to make the lives of the kitchen staff easier, it is strongly advised that the chef and sous-chef prepare meals and base ingredients for meals days or weeks before using. Soups, stocks, breads and other base ingredients can easily be prepared in advance. These base ingredients will offer plenty of flavor for a meal, but are also the most time-intensive ingredients for the kitchen staff to create. Stocks can take a particularly long time to make, but are vital to creating many delicious and healthy meals.
The majority of the cooking and preparation should be done Monday through Friday, which includes preparing meals in advance for Saturday and Sunday that will require minimal preparation and cleanup. The kitchen will prepare meals to be ready by approximately 8am, 12pm, and 6pm.
It will be important to also offer healthy snacks to the Community throughout the day. Due to the projected hours of heavy manual labor, a higher caloric intake may be needed than can be satisfied solely through the primary meal setting. With this in mind, healthy snacks will be prepared and offered in cold and dry containers that can be accessed by anyone at anytime. Examples of this would be large dry containers offering food items such as granola, snack bars, crackers, and mini-pretzels along with chilled water containers that will provide already prepared vegetables, fruits, and hard-boiled eggs.
For more details on the food plan, see the Food Self-Sufficiency Transition Page.
RESOURCES
SUMMARY
In summary, One Community's Transition Kitchen aims to enable our pioneer team to create a variety of affordable, delicious, and nutritious foods year around. The Transition Kitchen will be used as our primary food preparation area until we build our main kitchen in the Duplicable City Center. The Transition Kitchen will thereafter be used to create meals and snacks on-site at the building locations of the 7 villages. We hope you can take our design and successfully implement your own Transition Kitchen for your projects.

FREQUENTLY ANSWERED QUESTIONS
Q: How can you be sure this is the best list of appliances?
Although much research has been done, we can not be sure that this is going to be the most versatile and complete list that also does not include unnecessary items until we are on the property and can test the arrangement.