Food Self-sufficiency Transition Plan
Food sustainability and self-sufficiency is becoming increasingly important for a lot of people. This page is a resource and guide for affordably purchasing and deliciously preparing food for groups of 12, 25, 50, and larger while developing the necessary infrastructure to create food independence. For additional food sustainability, diversity, and self-sufficiency resources and guides, visit the Highest Good food open source hub, the soil amendment page, and the hoop house and large-scale garden construction and planting details pages.
This page contains the following sections:
RELATED PAGES (click individual icons for complete pages)
CLICK ICONS BELOW TO JOIN US THROUGH SOCIAL MEDIA

WHAT IS A FOOD
SELF-SUFFICIENCY TRANSITION PLAN
A food self-sufficiency transition plan is purposed to provide a specific road map for groups of 25-50+ people to buy and prepare delicious, healthy, and affordable food while establishing the necessary infrastructure to produce their own food. To meet our open source and maximally adaptable and implementable global transformation goals, this food self-sufficiency transition plan has been created with the following goals:
Less than $13 per person per day cost
Includes both a temporary kitchen and permanent kitchen strategy for food preparation
To provide a strategy for cooking for a large group that is easily modified and scalable depending on the size of the group
To provide a meal plan that provides whole-food based flavorful dishes from around the world and caters to both a vegan and omnivore diet
Click these images to be taken directly to the Transition Kitchen and/or the Weekly Recipes:
WHY A FOOD
SELF-SUFFICIENCY TRANSITION PLAN
This food self-sufficiency transition plan is purposed to be useful for any situation where people are looking to establish a temporary kitchen and prepare food for large groups of people over long periods of time. Most people like the idea of growing their own food but haven't considered the details of what would be necessary to actually achieve self-sufficiency. As part of our global transformation goals, an open source transition plan that addresses the steps leading to self-sufficiency for sustainable teacher/demonstration communities, villages, and cities is absolutely essential.
WAYS TO CONTRIBUTE TO EVOLVING THIS SUSTAINABILITY COMPONENT WITH US
SUGGESTIONS ● CONSULTING ● MEMBERSHIP ● OTHER OPTIONS
KEY CONSULTANTS TO THE FOOD SELF-SUFFICIENCY TRANSITION PLAN
FOOD SELF-SUFFICIENCY
TRANSITION PLAN DETAILS
There are many details to consider to properly plan and execute a transition strategy to bring a group of people from food dependence that is reliant upon the current traditional model, and one that is complete sustainable. We will be preparing food for a group of 50 adults with a combination of vegan and omnivore dietary preferences as we begin building the initial components of One Community.
We discuss the details in the following sections:
LARGE-SCALE FOOD PREPARATION ROLLOUT OVERVIEW
The overall strategy when planning to cook for an average of 50 people a day should be to establish a fully stocked commercial-sized kitchen. This will provide equipment that will reduce preparation, cooking, and cleaning times. This is especially important in the case of intentional Communities and self-sufficient teacher/demonstration hubs that may rely on volunteer labor to produce meals.
The downside to building a fully mechanized kitchen is the initial cost and time to design, purchase, and construct the kitchen. Once established, however, the Community can then rely on a chef and sous-chef to prepare & cook meals, clean the pots & pans, and manage a small support staff for additional preparation help and cleaning the remaining dishes and dining areas. In One Community's case, these tasks will all fall under the community contribution model for equal and fair engagement (along with other tasks) as agreed upon by consensus.
In the meantime, and in less permanent food preparation situations (like the One Community crowdfunding campaign), a temporary/transition kitchen will be necessary. This kitchen can be outfitted at a minimum with an oven, pots & pans, knives, and a few kitchen utensils to create a setup that has worked for hundreds of years and still works for many home kitchens. This will require more labor though, and a group should expected that a group preparing a large percentage of baked goods and pastas (items that take a considerable amount of time to produce without machinery) will require a chef, sous-chef, and 2 full-time staff-members to prepare the same volume of meals that a fully mechanized kitchen could produce with just a chef and sous chef. Of course, reducing high-labor-investment items like baked goods and pastas can also reduce these kitchen staff needs, so careful menu consideration planning ahead of time is essential to staff planning.
TRANSITION KITCHEN DESIGN & SETUP OVERVIEW
We have designed our transition kitchen to be affordable, maximally space efficient, easy to set up, and capable of preparing nutritious food for small groups all the way up to 50+ people. This kitchen is estimated to take a team of 10 people less than a day to set up, will be energy and resource efficient, and will cost less than $30,000. We will continuously update the open source plans and add the complete setup and maintenance details when we build it. Please click the below image of the transition kitchen we plan to build to go to the page with the details and additional images: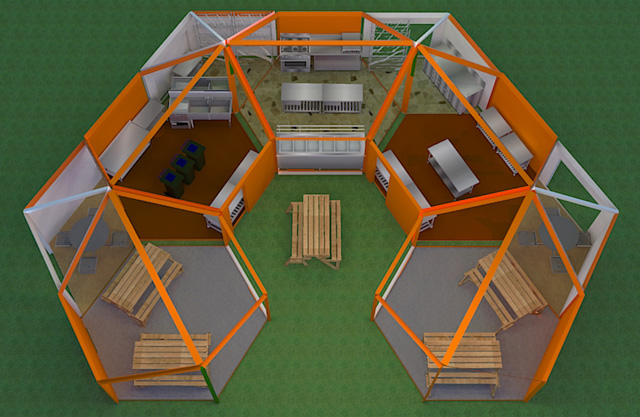 SUSTAINABLE EATING DESIGN PRINCIPLES AND CALCULATIONS
The procurement, preparation, and consumption of food will take up a large portion of the group's financial and temporal resources, and even more so in the beginning. Since there are so many differing opinions and theories about nutrition and diet, it is important to have a set of core principles that govern how decisions will be made with respect to these.
Here are a set of proposed principles to adopt, as suggested by our consultant Dr. Matt Marturano, and which can be adapted to suit the needs of any group (explanations for each can be found on our Sustainable Food Nutrition Calculations page):
Nutritionally-complete meal plans – Minimum of 100% RDA for nutrients
Nutrition-dense foods – quality comes first
Minimizing spoilage/waste – through food selection & storage
Food education – including macronutrient and micronutrient content & needs

Replicable recipes –

straightforward/easy

Adaptable recipes –

for changes in group sizes and activity levels

Taste and presentation –

food that is inherently pleasurable
HOW MUCH FOOD IS NECESSARY
Sustainable nutrition practices require us to continually ask this question, as the answer depends upon the circumstances. It is important to understand that there is no static answer to this question aside from 'It depends'.
Dr. Matt Marturano has provided guidelines and calculations to show us how much food is necessary. Please see the detailed version of how we got the calculations for One Community on our Sustainable Food Nutrition Calculations page, and see his guide on How to Get All Your Nutrition From Food for a very detailed and useful explanation.
We answered his four main questions that affect how much food is necessary and the answers to them will be used in devising the transitional food strategy for One Community. We will be designing menus with the following needs in mind:
50 people between

approximately

25 – 65 years of age with a mean

estimated weight

178 lbs and height of 70 inches, who will be very active (from physical labor since we will simultaneously be in the preliminary construction phase)
Based on the above estimations, while the pioneer group is in the food transition phase and preliminary construction phase, Dr. Marturano estimates we will need the following on average:
Calories & Protein (Please see the detailed calculation section for more information.):
SUMMARY OF NEEDS FOR 50 ACTIVE ADULTS
Based on all of the above, as shown on our Sustainable Food Nutrition Calculations page, here are our final weekly calculations for projected food needs for 50 active adults with a 178 pound average weight and mixed dietary preferences.
40% Omnivore, 30% Vegetarian, 30% Vegan Group of 50 Weekly Plan
CHOOSING FOODS TO BUY AND
HOW TO BUY THEM
Since we are estimating feeding 50 people per day, a bulk foods strategy which takes the nutrition above into account will also need to take price into account. Using current food prices, the following is our educated guess on how often we will be using each type of food. Here are our choices on foods:
Foundational Foods
Supplemental Foods
Bulk Dried Goods
FOUNDATIONAL FOODS (DAILY/WEEKLY USE):
Bulk Grains

Dried Beans & Legumes

split peas, green lentils, and peanuts are most affordable so will be used most often
garbanzos, black beans, kidney beans, pinto beans, northern beans, and navy beans tend to be next affordable

Fresh, Dried, & Frozen Fruits

raisins, dates, & figs

and

frozen strawberries, mixed fruit & pineapple

tend to cost less

Bananas should be easy to get shipped in cases at great rates

Nuts, Seeds, and Spreads/Butters
Potatoes, Yams

and other inexpensive root vegetables

Seasonal, locally available fresh produce –

best bulk rate / 'ugly' produce will be the priority to purchase

Squashes/gourds, pumpkins, apples

, etc, in season

Eggs & Dairy – low cost dairy items*
Lean frozen and/or ground meats that are inexpensive*
Pasta & Couscous
You can follow the links below to the recipe pages for recipes with some of these foundational ingredients.
SUPPLEMENTAL ITEMS (OCCASIONALLY ADDED TO RECIPES):
Bulk Grains, Dried Beans & Legumes, Nuts, Seeds, Pastas, Spreads, etc, not listed above

rye berries, spelt, amaranth, farro, cashews, chia, pumpkin seeds, and other mid-price items.

occasionally, quinoa and other expensive varieties will be used rarely unless a good deal is found

Fresh meats / more expensive meats and dairy items*

Canned fish and seafood*

Dried and Frozen Fruits

dried cranberries, apricots, frozen mixed berries, and other mid-price items can be used occasionally

more expensive items will be used rarely
*for omnivore meals
BULK DRIED GOODS PANTRY
The three main categories of bulk dried goods are: beans/legumes, nuts/seeds, and whole grains. For each of these three categories, we will include three staples and some rotating items. Here is a good reference for long term storage techniques.
These are the general principles we assess each pantry item by to determine the quantity we store:
Nutritional Value

Availability

Cost

Shelf Life

Ease of Use

Variety
SUGGESTED INITIAL DRY PANTRY
Whole Grains (choose red/purple/black varieties if available and within budget for superior nutritional value)
*** Considering that approximately 10% of the general population have celiac disease, non-celiac gluten sensitivity, and/or wheat allergy we have intentionally left out wheat (Including spelt, kamut, farro, durum) and limited gluten-containing grains (barley, rye, triticale). Oats should be certified gluten-free if possible.
Rice (30%)
Corn (15%)
Oats*** (15%)

Buckwheat (10%)

Amaranth (10%)

Millet (10%)

Quinoa (5%)
Barley (5%)
Dried Fruits
Dates (30%)

Raisins (25%)

Figs (15%)

Other (30%)
(affordable dried fruits such as prunes)
Nuts/Seeds

Almonds (20%)
Pumpkin seeds (20%)
Sunflower seeds (20%)

Walnuts (10%)

Brazil nuts (10%)

Sesame seeds (10%)

Pecans (10%)
Beans/Legumes
Lentils (20%)
Chickpeas/Garbanzo (20%)
Black beans (20%)

Pinto beans (10%)

Green peas (10%)

Kidney beans (10%)

Peanuts (10%)
PROCUREMENT, STORAGE, & PREPARATION OF LEGUMES, NUTS, AND SEEDS
Legumes, nuts, and seeds not only are vital to helping fulfill the nutritional needs of a group, they are also able to be stored much longer than many food items, without refrigeration. In this section we will discuss how to get them, store them, and prepare them.
PROCUREMENT
Initial research has lead to the following possible sources to explore:
6 gallon "superpails" of organic legumes from Pleasant Hill Grain have about 40-45 lbs of product and go for $2.75-$3.00 per pound, depending on the variety.
https://www.omfoods.com/legumes/organic-peas-yellow-split/ peas $31 25lbs -under $1.240/lb
They also have chickpeas $1.84/lb
Wilderness Family Naturals has bulk organic raw nuts and seeds in 25 lb boxes for $115-$360 ($4.60- $14.40 per pound) depending on the variety.
STORAGE
These items need to be typically stored off the ground (away from rodents) in a dark and dry environment.
6 weeks of dried legumes on hand = 1225 pounds, or about 30 of those 6 gallon buckets. Diameter is 13.4", height 17.6" (about 2500 cu in) Total storage space: about 50 cu ft. These would fit on 2 units of Nexelon Wire Shelving, 60″W X 14″D X 74″H ($240 online from Global Industrial)
6 weeks of nuts/seeds on hand = 614 pounds, or about 25 of those boxes. Dimensions are 12 x 12 x12" (about 1750 cu in) : about 25 cu ft. This would require 1.5 more shelving units.
PREPARATION
The first question is if and how much of these are going to be soaked or sprouted before consumption. This will determine on the availability of water. Since water will be limited on the property One Community will have access to, unless marked otherwise, recipes on our website will include dry goods, and can be adjusted accordingly for those that choose to soak or sprout theirs. We will include some specific techniques and recipes in the recipe section below.
PROCUREMENT, STORAGE, & PREPARATION OF ROOT VEGETABLES
Root vegetables are vital to helping fulfill the recipe and caloric needs of a group. They are also able to be stored longer than many foods. In this section we will discuss how to get them, store them, and prepare them.
PROCUREMENT
Root vegetables include potato, sweet potato, yam, carrots, turnips, parsnips, celery root, beets, etc. One Community will need approximately 32 lb per day based on the nutrition calculations. We suggest procurement from a local farm or farms. Potatoes and sweet potatoes can also be purchased at a decent price from Costco, for those in an area where this is an option.
STORAGE
These items need to be typically stored off the ground (away from rodents) in a dark, dry, and cool environment.
RELEVANT KITCHEN EQUIPMENT
Small brushes (to wash root veggies), peelers, chef's knives, ovens, burners, sauce pans, griddles, large pots, colanders, large mixing and serving spoons, mashers, mixers, immersion blenders, graters, mandolins
GENERAL STRATEGY
Root vegetables can all be prepared in pretty much the same ways. If a recipe calls for a particular root veggie that isn't on hand, chances are that the cook can improvise with another root vegetable on an equal weight or volume basis.
PREPARATION TECHNIQUES
Always wash/scrub root veggies, whether or not you are planning to peel them.
Peeling is totally optional, even with items that are almost always served peeled, such as carrots. TIP: The peel contains many nutrients. However, certain people, including young children, the acutely ill, and the elderly can be sensitive to higher levels of salicylates. If any of these will be eating, it may be best to consider peeling or to make a special preparation for those individuals.
For something large and oval, like a yam or celery root, slice through the long axis, place the sliced faces down on the cutting board, and cut again along the long axis. This will create long wedges that can be served in that form. Or slice the wedges up into chunks.
For something long and skinny, like a carrot or parsnip, simply slice into round medallions. Or, cut first lengthwise, then slice to make half-moon shapes.
Other preparations: The root vegetable may be kept whole, as in when making a baked potato or yam. They can also be passed over a grater to make shavings; these are typically used in cold preparations like a salad, or as a garnish. Use a mandolin to make chips.
Root veggies can generally be prepped the night before, and kept soaking in water.
COOKING TECHNIQUES
Baking is simplest. Root veggies can also be boiled. Deep frying in a sauce pan is delicious, but messy and expensive. We will include some specific techniques and recipes in the recipe section below.
PRODUCTION SCHEDULE OVERVIEW
In order to make the lives of the kitchen staff easier, it is strongly advised that the chef and sous-chef prepare meals and base ingredients for meals days or weeks before using. Soups, stocks, and other base ingredients can easily be prepared in advance. These base ingredients will offer the most flavor to a meal, but are also the most time intensive for the kitchen staff. Stocks can take a particularly long time to make, but are vital to creating certain delicious and healthy meals.
The majority of the cooking and preparation should be done Monday through Friday, while preparing meals in advance for Saturday and Sunday that will require minimal preparation and cleanup. The kitchen will prepare meals to be ready by approximately 8am, 12pm, and 6pm.
It will be important to also offer healthy snacks to the Community throughout the day. Due to the projected hours of heavy manual labor, a higher caloric intake will be needed than can be satisfied solely through the primary meal setting. With this in mind, healthy snacks will be prepared and offered in cold and dry containers that can be accessed by anyone at anytime. Examples of this would be large dry containers offering food items such as granola, crackers, and mini-pretzels along with chilled water containers that will provide already prepared vegetables, fruits, and hard-boiled eggs.
WEEKLY SHOPPING AND RECIPE LIST
To effectively serve the One Community Team, we will create two primary recipe options: omnivore and vegan. Catering to too many varied diets would ultimately be costly and unsustainable. Many meals can flexibly be created from either a vegan or omnivore based meal plan. Our current menus are primarily vegan as they were created by Sandra Sellani: Business Author, Speaker, Consultant, and Vegan Chef, and we will be adding omnivore recipes soon. With this (and all the information above) in mind, we have created the following first draft of weekly recipe lists:
RESOURCES
SUMMARY
Our food self-sufficiency transition plan is purposed to provide a specific road map for groups of 25-50+ people to buy and prepare delicious, healthy, and affordable food for under $13/person per day while establishing the necessary infrastructure to produce their own food. With this in mind, we focused on calculating the macro nutrient ratios and caloric needs for the pioneer team of 50 that will be on the property by calculating needs for our current group and multiplying it so that it covers 50 people. We then created a bulk food storage strategy to provide the basic needs for the macro nutrients when combined with basic fresh staples purchased on a weekly basis. We also created sets of weekly menus that could be used to provide both variety and nutrition.
FREQUENTLY ANSWERED QUESTIONS
Q: How can you be sure your food ratios are correct?
A: Although much research has been done, we can not be sure that this is going to be the most versatile and complete list that will accommodate the needs and preferences of our team until we are on the property, understand the preferences of each individual, and see how each person's caloric intake is effected by the labor they engage in. The ratios and items will be adjusted based on these needs, consensus, and the sources and costs of the particular foods that we can access from the property.
Q: Why are so many of the recipes vegan?
A: The vast majority of the preliminary recipes were donated by a vegan chef. We will be creating omnivore based recipes as well, specifically for the transition kitchen plans, which we anticipate will be used by an even broader audience than just our pioneer team.