Highest Good Food Infrastructure
People producing their own high-quality and diverse food is a path to increasing health, biodiversity, and individual and global food security. As part of One Community's self-replicating and self-sufficient teacher/demonstration communities, villages, and cities and open source botanical garden models, we also see this as a solution to world hunger. This page is the open source portal to all the components necessary to create this. It contains the following sections related to the Highest Good food® Infrastructure:
PAGE UNDER CONSTRUCTION – PLEASE VISIT THE MAIN FOOD PAGE
NOTE: THIS PAGE IS NOT CONSIDERED BY US TO BE A COMPLETE AND USABLE TUTORIAL UNTIL
WE FINISH OUR OWN CONSTRUCTION OF THIS COMPONENT, CONFIRM ALL THE DETAILS, AND ADD
TO THIS PAGE ALL THE RELATED VIDEOS, EXPERIENCE, AND OTHER UPDATES FROM THAT BUILD.
IN THE MEANTIME, YOU CAN HELP US COMPLETE IT ALL SOONER WITH THE FOLLOWING OPTIONS:
INPUT & FEEDBACK | JOIN OUR TEAM | HELP US BUY THE PROPERTY
HIGHEST GOOD FOOD SEARCH ENGINE

WHAT IS HIGHEST GOOD FOOD
We consider Highest Good food to be maximally nutritious, maximally bio-diverse, fresh, duplicable, space and resource efficient, ecologically and individually healthy food that is far superior to anything found in a typical grocery store. We are approaching this so it caters to vegans, vegetarians, and omnivores. We are also integrating it with One Community's open source and earth-regenerative botanical garden model. This will provide a foundation for those interested in joining and helping build a global cooperative of people specifically studying, preserving, sharing, and evolving plant species for The Highest Good of All.
Some of the key features and intentions of the One Community Phase I food infrastructure include:
Some of the key features and intentions of the One Community Phase II food infrastructure include:
Artistic designs
ADA Accessibility
Multi-functional use
Inclusion of aquaculture
CLICK THESE IMAGES FOR COMPLETE & RELEVANT DETAILS


WHY HIGHEST GOOD FOOD
One Community's Highest Good food designs demonstrate what truly ethical and carefully planned land stewardship is capable of. This is foundational to our strategy for global change methodology and an evolution of sustainability that integrates this food component with the 7 sustainable village models and open source Duplicable City Center. The ultimate result of this will be holistic living models demonstrating sustainable production of food with unparalleled nutrition and diversity. It will provide enough volume and variety to feed all of One Community and our visitors. Additional benefits and reasons we have for doing this are:
WAYS TO CONTRIBUTE TO EVOLVING THIS SUSTAINABILITY COMPONENT WITH US
SUGGESTIONS     ●     CONSULTING     ●     MEMBERSHIP     ●     OTHER OPTIONS
HIGHEST GOOD FOOD OPEN SOURCE PORTAL
Highest Good food is an approach to global transformation through open source and free-sharing how to grow food that is maximally nutritious, maximally bio-diverse, fresh, grown without pesticides, herbicide, or fungicide poisons, space and resource efficient, ecologically and individually healthy, and far beyond anything found in a typical grocery store. The following sections will evolve and expand indefinitely with open source content that covers all aspects needed for duplicating of One Community's food infrastructure. This can be done in part or as a whole and includes the following areas and open source resources to facilitate the process:
What we're working on now
Temporary Kitchen Setup
Purchasing and Preparing Food Until Self-sufficient
Large-scale garden
Food forest
Soil Amendment
Botanical garden
Apiary/bee yard
Hoop house creation
Ethical raising of goats
Ethical raising of rabbits
Ethical raising of chickens
Aquaculture for aquaponics
Highest Good wildlife stewardship
Aquapini and walipini food (Phase II)
Building plans for aquapinis and walipinis
Detailed materials list and cost analysis for all components
Do-it-yourself multi-media resource and information hub
How to work with local government if permitting is needed
Detailed tools and equipment list, best place to buy, and cost analysis for all components
Detailed build-time investment needs for each component based on our building experience
How to install and utilize water catchment for each structure and the complete food infrastructure
How to make your build easier than ours and how to solve any problems we encountered in our build
Complete and on-going maintenance and upkeep details per our experience with all village components
Archive and database of others building similar structures including their experiences, adaptations, etc.
List of everyone who helped us design and build this so they can be contacted to help with modifications
All of the above for the Tropical Atrium sustainable tropical food production and social gathering space
Large-scale and permanent open source commercial eco-kitchen and food-prep facility
All of the above for all 7 open source complete sustainable-housing village designs
All of the above for complete renewable energy infrastructure

 
FOOD SUSTAINABILITY
IMPLEMENTATION DETAILS
Before One Community (or any off-grid teacher/demonstration community, village, or city) can begin construction of its primary structures, an initial team will move to the property to survey the land and begin food infrastructure preparation, finalize development plans, and create the "pre-infrastructure" that needs to exist to support the construction of the first phase of the One Community infrastructure. They will prepare the site for future teams to join them, and those teams will in turn prepare for the next teams after that.
What follows is the specific plan for the food rollout aspects of this process. It starts with the initial survey team of three people and progresses through our first 400 people. As part of One Community's open source goals, this rollout is designed and described in detail to help those interested in duplication. Additional details will be added to this tutorial as we complete them and to provide everything necessary for even easier replication. Click these links for details on each aspect of the rollout plan:
SURVEY TEAM: FOOD FOR 3-PEOPLE
The primary focus for the initial three people is general property and structural assessment with videographer documentation of all activities. This includes a comprehensive walkthrough of the property, prioritizing action items for the next influx of personnel, and acquiring necessary tools, appliances, and food supplies for the initial three and the group to follow.
The action items (in order of implementation) for this stage of the food infrastructure rollout are as follows:
Secure Initial Food Supply
Receive, Test, and Inventory Pre-ordered Items and Existing Equipment
Place Orders for Additional Items Needed 20-50 People phase
3-PERSON FOOD IMPLEMENTATION DETAILS
Upon property acquisition, the initial team of 3 will acquire a two week's food supply to cover their own needs. They will also receive, test, and inventory pre-ordered tools, fuel, and general and agricultural supplies in preparation for the arrival of 20 additional personnel. Purchasing kitchen items and appliances will also be completed by this team.
Here is the tools list and cost analysis for these items:
COMING….
These initial 3 people should also receive, test, and inventory the equipment listed in the "Initial Survey Team: Energy for 10-20 People" section of the Highest Good energy page.
With essential food, supplies, and tools cached, we will undertake a comprehensive walkthrough of the property resulting in a summary report of our findings, concerns, and observations to present to the incoming group of Pioneers who will address the report's issues as one of their first action items once they are settled into the property.
SOIL AND WATER TESTING
Initial soil testing, water testing, and overall property analysis will be done as part of our due diligence before property purchase. It will be done again and more thoroughly by the initial survey party. Ribbon and jar tests will be done throughout the property to determine the general soil content. Surface plants will also be assessed as the first steps of the open source botanical garden plan and to provide an indicator of soil type, deficiencies, soil water retention capabilities, and overall soil health. These simple field tests will further be confirmed through gathering soil samples and having a complete soil analysis done by the local Extension Service or nearest NRCS (Natural Resources Conservation Service) office.
Water samples will also be taken for testing and we will further confirm our flow rates will meet the needs for the number of expected residents.
PROPERTY WALK AND STRUCTURE AND ORCHARD ASSESSMENT
As we walk the property we will provide a general assessment of all the existing structures, including interior/exterior structural integrity, roof condition, plumbing/electrical/heating issues, and note any major and immediately necessary upgrades/repairs, etc.
A comprehensive orchard assessment will also be conducted with all dead trees tagged for removal, existing trees identified, and damaged trees marked with an explanation provided for bringing them back to health. Fencing requirements, critter damage prevention, pruning needs, mulch, irrigation, weed/grass mowing, and a planting plan for the following spring, etc. will also be outlined by this initial team.
WILDLAND FIRE ASSESSMENT
A property perimeter and interior wildland fire assessment will also be conducted to produce recommendations for any necessary and immediate initial prevention considerations. Later, the complete fire prevention plan will be implemented to address tree removal, understory and ladder fuel reduction, creating an access map for emergency vehicle initial attack, and helispot identification sites for medi-vac and fire purposes.
Click Here for the Village Emergency Fire & Medical Plan Open Source Hub
INITIAL SITING OF DEVELOPMENTS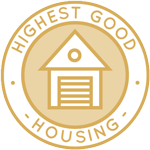 We will also designate preliminary locations for the Earthbag Village (Pod 1), Duplicable City Center, and agricultural areas (see Permaculture Design, Large-scale Gardening Plans, and Hoop Houses). This will include assessing and planning water locations, ponds, and swales, as well as a weather station site for conducting and recording daily weather conditions and creating an ongoing weather history that is as accurate as possible for our specific property.
Click Here for the Highest Good Housing Open Source Hub
ESTABLISH LOCAL CONTACTS
After the complete property survey is finished, gathering information throughout the surrounding community is next. This will include contacting the county again to arrange a new meeting with those we have been coordinating with prior to the property purchase. Additionally, we will survey the local restaurants to determine their wholesale food sources, check with local suppliers, ranchers, city and county departments, and arborists for availability of manure/straw/hay/wood chips. We will also research availability of local chickens/rabbits and feed sources until we can grow most of what they consume.
INITIAL SURVEY TEAM: FOOD FOR 10-20 PEOPLE
The core group of 20 will be composed of primarily Pioneers and a few Volunteers possessing specialized skills.  Together they will collectively review and confirm the assessments of the initial three and then begin building the Phase I food infrastructure as outlined below. Their backgrounds and experience will include the permaculture/food production, construction/architecture/engineering, and graphic design/video editing/open sourcing skills required to organize and complete all that is described below so we are ready to welcome and guide the next 30 people effectively.
Here are the action items (in order) for this stage of the food infrastructure rollout:
10-20 PERSON FOOD IMPLEMENTATION DETAILS
After the work of the initial three is complete, the next 10-20 people will arrive on the property to begin comprehensive implementation of all the Phase I food details. Here is the tools list and cost analysis for the additional items that will be needed for this phase of development:
COMING….
This group of 20 people should also receive, test, and inventory the equipment listed in the "Off-grid Energy Implementation Details for 10-20 People" section of the Highest Good Energy page.
With essential food, supplies, and tools cached, we will undertake a comprehensive walkthrough of the property resulting in a summary report of our findings, concerns, and observations to present to the incoming group of Pioneers who will begin addressing the report's issues once they are settled into the property.
TEAM MEETING

The purpose of the team meeting is for the initial three to share their findings with the incoming additional team of 10-20, then conduct a walking tour to familiarize everyone with the property and collaboratively organize which aspects of the project the various team members will engage. Teams will be groups of two to five and focused on establishing the groundwork for implementing the food and agricultural foundation of One Community.
Below are the combination of skills/individuals we think would be ideal for this team. Some of these positions may be filled by overlapping qualifications of a single individual (for example: civil engineer/surveyor):
Architect
Chef
Civil Engineer
General Contractor
Graphic Designer
Hydrologist
Irrigation Specialist
Master Plumber
Network Engineer/Administrator
Permaculturalist(s)
Soils Scientist
Structural Engineer
Surveyor
Videographer
Webdesigner(s)
CLICK HERE IF YOU'D LIKE TO APPLY TO FILL ONE OF THESE POSITIONS
FOOD SUPPLY AND KITCHEN SET-UP
The Pioneer chef will handle day-to-day food responsibilities with other Pioneers assisting as needed. Before the team of 20 people arrive, the chef will pre-order their food supply and the initial three will obtain locally grown and organic vegetables and purchase a Costco membership. The chef will begin by organizing the existing kitchen facility to accommodate and feed about 25 residents. The planned property has a kitchen and we will additionally be setting up the transition kitchen (see Transition Kitchen Set-Up below) as part of this phase.
LOCATION DESIGNATIONS
During our walk through of the property we will collectively confirm the locations of our transition kitchen, hoop houses, large-scale garden & hugelkultur beds, apiary, food forest, chicken coops, goat barn, rabbit hutches, and fenced areas. These sites are based upon directional orientation, geographical features, prevailing wind directions, solar exposure, water accessibility, and access convenience and efficiency as related to one another – for example, locating the growing areas reasonably close to the food preparation site.
COMPOST SET-UP & COMPOSTING
Our primary compost area will be adjacent to the garden area and permanent kitchen location for easy access of transporting garden and kitchen waste to the compost piles. Initially we will seek organic matter off property, such as restaurant food scraps, manure, hay, grass clippings, leaves, and wood chips. After the first year or two, we expect to be able to supply almost all of the organic matter from our own property.
Composting is an ongoing process and will occur year-round. During the winter season we will daily add to our traditional compost piles but during other seasons we will use trench composting and vermiculture methods as introduced in the next section and discussed in detail on the soil amendment page. The soil, dead shredded leaves, organic hay, wood chips, and smaller pruning clippings will be stored near our piles to serve as carbon contributors as well as nitrogen sources of kitchen & garden scraps, grass clippings, chemical-free aged manure, weeds (prior to seeding), and coffee grounds to constantly add to the layered piles. See this link for tips on stockpiling materials for batch composting: Article: "How to Stockpile Compost Material"
We also will create this as an area large enough to operate a small tractor or bobcat to minimize manual labor when turning piles. The site can be in a shady or sunny area, full sun is not necessary as composting creates its own heat during the process of microbial breakdown. It must have good drainage though and should be covered with a tarp or under a roof to prevent saturation by rainwater. The carbon-contributor wood chips, twigs, large branches and trunks don't need to be covered. 
WORMS
Worms serve a dynamic role in creating and maintaining a healthy soil, so we'll begin our initial worm farms during this initial phase of our food rollout. Under the right conditions worms appear on their own and mother nature puts them to work processing food scraps, leaves, insects, and other organic matter. To further build our worm population, we will practice vermiculture (worm) composting the majority of the year. This method includes vermiculture farms and trench composting and is a much simpler and far less labor intensive process than regular composting. Details of these processes and the rest of our worm cultivation strategy can be found in the worms section of our large-scale soil amendment page. Vermiculture worm bins will be sited for inclusion by our composting area(s), inside our hoop houses, and anywhere else they can be useful and effectively managed.
SOIL AMENDMENT
We are planning for soil that requires amendment to adequately grow for our needs and we'll start that process in this early phase of development. For areas like ours that we expect to be too sandy, amending the soil (adding organic material to the existing soil) will increase the nutrient value and water retention. This will make the soil more healthy and help prevent plant diseases.
A good quality compost is an excellent way to begin the process. Initially we will open the soil using a garden spade to lift it and and add 4-6" of quality compost while keeping the topsoil in place. Then we'll add over this several inches of well-aged manure that we'll slightly rake in, leaving the majority of the manure exposed as the surface layer of compost. Complete details of this process are described in the soil amendment section of the large-scale soil amendment page.
HOOP HOUSE CONSTRUCTION
Hoop houses are a vital part of our food infrastructure. At an elevation of 6500' they will prolong both ends of our growing season. Initially we will purchase topsoil/compost and immediately begin composting and building soil for our hoop houses and outdoor gardens. Vermi-composting, traditional composting, and trench composting will contribute to this process. Cole crops are started early in the hoop houses and transplanted out in the early spring. Late summer/early fall allows a second cole crop in the hoop houses, maintaining them through harvest into early winter. For further information and details on how we will construct these hoop houses, visit the hoop houses open source hub.
GARDEN ESTABLISHMENT AND NO-TILL
The garden area will be located in an open sunny area near a water source. See installation of drip irrigation system here (thorough explanation): http://www.youtube.com/watch?v=SbYRdvEUJ70. Along with traditional cultivation we will have trial beds utilizing a no-till concept; these will not be implemented immediately because our initial focus is building soil for quick food production. Due to our elevation and soil type we will exercise different methods to determine the best approach for obtaining higher production yields. (see trial bed link) For certain, in anticipation of sandy soils we will yearly amend with compost/aged manure, leaves, food scraps, and hay resulting in a soil with high water retention, abundant nutrients, and good soil structure.
Soil temperature affects seed germination and we will plant cole crops at 45F; tomatoes, marigolds (pest deterrent), and most other warm season crops at 60F or better and waiting until soil temperatures reach 68-70F for peppers and eggplant. Simple ways to increase soil temperature at the plant base is to plant within tire rings or utilizing "walls-o-water". There are numerous ways to construct garden beds and here are some examples:



http://www.youtube.com/watch?v=rHMoUlTxGoA
Because we have a substantial amount of flat, blocky rock we will lay this up about 12" high so the true width of the bed from inside edge to inside edge is 3' with hay extending under the rock and about 6" beyond the outer edges of the rock perimeter. With ease, this allows one to reach across the midpoint of the bed from both sides, convenient for adults and children when planting, harvesting, and maintaining the beds. Hay helps suppress weeds, adds nutrients, and eventually incorporates into the soil. The path width between beds is 30" and will be heavily mulched with a thick layer (8"-10") of wood chips.
Before laying the hay we will use a garden fork to loosen the soil and then water thoroughly. With the amount of sand we have it may not be necessary to utilize the fork, but if so, simple push the fork into the soil with your foot so it penetrates the full depth of the tines and wiggle it back and forth a couple times, extract the fork and repeat the process throughout the bed. Our beds will run east/west to take maximum advantage of the sun,
If you have healthy soils and a reasonable growing season duration, unlike our sandy soils and short growing season, soil prep may be as simple as adding a rich compost manure mix with a heavy mulch.
Upon completion of the growing beds with a peripheral rock delineation, the first year consists of a more extensive layer of materials due to the lack of nutrients in the soil. There are many alternatives to jump start the soil building in the first year and if you have poor quality soil this is one method:
Grass clippings, 2-4" covering layered cardboard***(see below)w and then water
Add a bucket or two of food scraps positioned in the inner third of the bed (if they are on the perimeter they are more likely to attract rodents)
Worms will naturally be drawn to your garden, but adding some now is a way to expedite breaking down the food scraps, water
Topsoil addition (2") and water
Loose hay covering (3") and water
Thin shredded paper layer (1") and water
Thin layer of green grass (1") and water
Soil/compost mix (3") and water
Dry grass clippings (2") and water
Dry leaves (2-3") and water
Compost/manure mix (3") and water
Hay mulch 8"
Straw mulch (2-3)
*** The Great Cardboard/Paper Controversy—Within the permaculture and gardening communities there exists a running debate on whether or not to utilize these items due to the chemical additives in their creation. The gardening purists refrain from any cardboard or paper products with additives of any kind believing that under no circumstances should we introduce chemicals into the process as there are enough introduced both intentionally and unintentionally throughout our environment.while proponents argue that the additives are locked up and not available causing no harm and the layering of cardboard and paper products greatly helps in the initial phase of weed blocking. The initial application of paper products is single use only and allows one to get ahead and stay on top of weed control. We bring this point to the forefront for your awareness allowing you to make the choice of cardboard and/or paper products. Further research will help your determination. Here is an ongoing discussion of the matter http://permies.com/t/2157/concerns-cardboard-newspaper-mulch
In some ways, the above is an ideal way to begin transforming a poor soil into a good quality growing media. Depending on one's stance on non-organic substances such as the chemicals and glues in cardboard and paper and the common use of chemicals applied to grain crops resulting in tainted straw, we will alter the above method, even though some permaculturists state that a single use of cardboard and shredded paper will not greatly affect your end result in a negative way. This may be true but our preference is to stay away from chemical use in our growing beds. Therefore remembering there is no single correct method, this is our choice for setting the process in motion with a poor quality sandy soil that occupies our property at an elevation of 6500'.
In the summer/fall season before planting:
Secure organic hay bales in spring from previous years crop or in late summer and store in the sun under black plastic for at least 2-3 weeks (to burn up excessive weed seeds within)
Secure dump loads of manure in late summer and store in the sun under black plastic for following spring utilization
Fork the ground if necessary and water well
Remove hay from plastic (after minimum of 2-3 weeks storage) and apply 12-16" mulch (this will act solely as a winter soil insulator so we can plant earlier in the spring)
Resume in the spring with the following steps:
Pull back hay mulch and cover ground with 4" topsoil, then water topsoil
Add kitchen scraps, as much as reasonably possible, and scatter them throughout the bed except for an 8" perimeter around all sides of the bed
Liberally add coffee grounds
For added worm support scatter handfuls of sand over the bed (Digestive system of a worm and how it works, see this link) http://scienceprojectideasforkids.com/2010/earthworm-digestive-system/
Add a 2" layer of dried grass, leaves, or other shredded material, then water
Cover with 4" aged manure/compost, then water
Add 8-10" organic hay mulch (obtained the prior summer to what we already have that is now diminished to a couple inches)
Cover walkways with wood chips(preferable) or organic straw—whatever is available
To commence planting, pull back hay mulch just enough to create a small furrow, set seeds, and lightly cover seeds with soil
Push hay back and expose a thin soil line to allow seed germination; if planting seedlings, close soil gap with mulch up to the base of the seedling
Add 2-3" organic straw over hay, if obtainable, otherwise eliminate this step (the straw which remains drier than the moist hay will lessen seed germination from windblown weed seeds)
Weed well in the mulch gap in the beginning, if necessary, then cover exposed soil from furrow with existing hay/straw mulch by closing mulch gap up to base of seedlings after they have sprouted and reached several inches in height
Thereafter pull weeds or cover weeds with hay throughout the growing season
The above is not an exact formula, you can vary the amendments to suit the existing materials you have on site. Remember, we are beginning with a poor soil and want to build soil and increase nutrient value as quickly as possible.
Straw or hay, what makes a better mulch and why? The following link elaborates on the pros and cons: http://thegrownetwork.com/straw-vs-hay-which-makes-a-better-mulch/
Pros of straw:
good insulator
bedding for animals
good for walkways (like wood chips)
Cons of straw:
Attracts rodents (more than hay)
Adds few nutrients
Takes longer to decompose
Not as good a weed blocker as hay (use newspaper under it)
Pros of hay:
Retains moisture (good for hay bale gardening as well)
Nutrient rich (balanced NPK and trace minerals)
Good weed block
Generally too dense for rodents
Cons of hay:
Attracts slugs and snails in wetter climates
Decomposes quickly
Weeds seeds blown in sprout more readily if hay is damp
Can tie up nitrogen (As hay decomposes it is broken down by various bacteria and other organisms that all use nitrogen, the same as straw. These organisms utilize this new food source (your hay compost) and they multiply rapidly, which depletes the soil of nitrogen. As they run out of food the organisms die and the nitrogen is once again available for the plants to use. Planting directly into a hay mulch without any supplemental nitrogen source available probably isn't the best idea.)
In a perfect world the solution is to use both hay and straw. A thick layer of hay mulch on the bottom where it will decompose and act as a spongy reservoir for moisture, topped off with a few inches of straw acting as a dry layer preventing blown in weeds from sprouting and providing an aesthetically pleasing and functional walkway (if you have a choice of only one type of mulch use hay simply for the fertility factor).
But as all practical gardeners know, you use what you have or can easily obtain. Why pay money for straw if a local farmer will give you hay inexpensively or free in July for nothing? If you can receive it free but you don't need it all at once then simply put the extra bales out by your garden, throw a tarp over them, and save them for next year. If the hay gets wet and starts to compost itself, it really doesn't matter. Eventually it all goes in the soil and the pile of bales can act as a windbreak while it waits to be used.
Most grains are sprayed with chemicals so organic straw is difficult to source, that said, organic hay may be difficult to locate, but easier than straw, depending on your location. In the end you will use what is available and economically feasible.
What's the difference between hay and straw? Hay is simply grass, commonly Timothy or Orchard Grass (http://standleeforage.com/nutrition/nutritional-papers/big-two-forage-grasses-timothy-and-orchard)
(http://www.gardeningknowhow.com/edible/vegetables/cover-crops/orchardgrass-information.htm) grown to proper height, cut at the peak of nutrition (ideally before it goes to seed), dried, bundled, and stored safely. The best hay is grown for sale to livestock owners because they value its nutritional content and are willing to pay the premium price it commands. For various reasons, primarily weather related, it is difficult to cut hay without at least some of the grass going to seed. Prep hay or straw bales by sealing moist bales in plastic and leaving them in direct sun for at least two to three weeks. This substantially kills many of the weed seeds.
Straw is the bare stalk remaining after a nutritious seed head, such as barley or wheat has been harvested. The stalks are then dried, bundled and stored safely. The best straw is sold as high quality animal bedding (often times for race horses). Farmers make every effort to harvest the grain from straw, leaving straw bales relatively seed free especially when compared to hay.
Often gardeners are reluctant to mulch with hay for fear of introducing additional weed seeds. Here are some solutions addressing that issue:
When using hay, avoid working the soil. When the soil is cultivated seeds are brought to the surface, resulting in germination. If the hay contains weed seeds, as long as we keep piling on more hay as it decomposes, the seeds will be buried and likely won't germinate. Covering the weeds with hay will add nutrients to the soil and minimize the laborious task of weeding.
If weeds are germinating and growing, remove them or cover with more hay; they will supplement the soil nutritional value.
If you are concerned about weed seeds, leave the hay outside the garden for a few months to start the decomposition process before adding it to the garden.
Knowledgeable gardeners should make informed decisions on which is best for their needs. If your goal is simply to cover the soil, as for paths, then straw is fine. If your goal is to enrich your soil, then the nutritious hay is the better choice.
Using good quality of either is important, so learn how to evaluate bales. Hay or straw may be excellent, good, or poor quality. Lesser qualities will have more seeds and weeds. If poorly made, certified organic straw or hay may be worse than conventional bales in terms of seeds and weeds. Keep in mind the lesser quality products are usually what are offered because farmers can't sell it at a higher price to livestock owners, especially certified organic.
Following are information, thoughts, and practices of Ruth Stout, an avid mulcher who practiced very simple gardening methods based on a no-till philosophy with heavy mulching replacing both cultivation and weeding, while improving the soil quality, conserving moisture, maintaining a more even soil temperature, and creating an aesthetically pleasing appearance.
The secret to Ruth Stout's "No Dig/No Work" method is keeping a thick mulch of any vegetable matter that rots on your vegetable and flower gardens. "Eight inches of rotting hay is the best thing you could do to a garden", she maintained. Spoiled low quality (not suitable for feed) hay is cheaper to buy and both fertilizes the soil and keeps the ground moist. Hay keeps the ground moist and diminishes greatly the need to water. She also didn't limit her mulching material to hay alone, but also tossed grass clippings, straw, leaves, pine needles, sawdust, weeds, and kitchen scraps directly onto her garden. She didn't bother with a separate compost pile, as her garden was her compost pile. Stout stated you shouldn't bother weeding, when weeds begin to grow through the hay, just add another armful of hay on the weeds.
This non-invasive method worked so well for Stout that she grew all of the vegetables needed by herself and her husband for 14 consecutive years. To "plant" potatoes, she simply threw sprouted potatoes on the ground, covered them with hay, and let them fend for themselves. They produced lots of healthy potatoes – the no dig/no work way. She planted seeds the same easy way.
There is some work involved, though, buying hay and placement on the garden (she recommended starting with a healthy eight inches of hay mulch, distributed evenly around the flower and vegetable gardens). After that, the only work was tossing down more hay when the height of the hay decreased or whenever weeds appeared. There is a considerable time and labor savings using this no-dig method. Another benefit is not introducing dormant weed seeds that are brought to the surface during manual or mechanical cultivation.
Her published books include How To Have A Green Thumb Without An Aching Back – A New Method Of Mulch Gardening, The Ruth Stout No-Work Garden Book, and Gardening Without Work: For the Aging, the Busy, and the Indolent.
Ruth Stout recommended starting a garden in late summer or fall. Early in the springtime, the soil is still cold, and the mulch would tend to keep the soil from warming up. If the ground is covered in the autumn with 8" (20cm) of hay, it will be ready for seedlings in the springtime. This may seem excessive, but with the influences of rain and decomposition, soon enough it will reduce to 2-3 inches (5-7cm) thick.
For beginning a new garden with the Ruth Stout System, the hay is added directly on an existing lawn. Do not remove the underlying grass and plants: they'll decompose under the hay and add to the soil fertility.
For planting seeds, ensure that they're in direct contact with the soil. In terms of the distance between seeds, use the distances recommended in traditional gardening methods. Nevertheless, Ruth Stout said plants can be more closely spaced after a few years of using her method. For transplanting seedlings, use a trowel or a small shovel.
For the cooler seasons, Stout recommends choosing cold-resistant plants like kale, that are harvested even when there is snow; or parsnips, that are left in the ground all winter and harvested in the spring. To help them get through the winter, cover them with a layer of hay.
Stout also suggests growing squash (for example, buttercup and blue hubbard), since they preserve well indoors during the winter months.
Her approach to gardening starts with the foundational principle of applying mulch, mulch, and more mulch, and then simply moving it back a tiny bit each year to make room for a row of seeds rather than comprehensive cultivation (and weeding).
She was practical in many ways: suggesting you take cues from the pace of plants to know what goes where (for example, that peppers can be planted in the spinach bed, since the latter will be done before the former get big enough to interfere). If there was no room in the garden proper for space-hogging potatoes, no matter; she grew them on top of the ground somewhere sunny (including as an impromptu border to her big iris bed some years) and just covered the tubers with clean hay or straw, no digging involved.
Ruth Stout Sources:
http://www.emmitsburg.net/gardens/articles/frederick/2007/stout.htm
http://www.goveganic.net/article182.html
a third party utilizing ruth stout mulching method:


Charles Dowding No-till:
This Charles Dowding video is about no-till/dig gardening. At the 3 minute mark he discusses the no-dig method and compares it to a dug bed, revealing the yields in the no-dig are slightly better and require less work. At the 7 minute mark he also talks of using aged manure(at least one year old) and placing it directly on the soil or grass and then covering it with cardboard or carpet to suppress weed growth. This method can be used in greenhouses and polytunnels also (discussed at the 10 minute mark). Composted manure works well in wet climates while straw is preferred in drier climates. Straw in wetter climates tend to draw slugs.

Morag Gamble No-till:
A very informative video about no-till/dig gardening. She has a slightly different approach and this video is best viewed start to finish. It describes the 4 steps in setting up a no/till garden whether you are starting new or utilizing an existing garden:
Open the soil. Use a garden fork to open the soil allowing air and moisture penetration. Once it is open, water thoroughly. If the soil is not moist, water, and then open the soil with a garden fork. Any existing vegetation can be left in place as it will decompose and add nutrients to the soil. Water soil thoroughly again.
Feed the soil. Use whatever you have—coffee grounds, vegetative matter, food scraps, compost, leaves, aged manure, etc.—and distribute it on the ground surface. Add water.
Lay weed barrier. Soak newspaper about 10 sheets thick, overlapping edges about 4". If you have sloping ground lay the paper so the water drains under the next layer of paper (the reverse of laying roofing materials). Add water if necessary.
Apply mulch. Add 8" of hay mulch or wood chips and water well. Our preference in our climate is hay, but with none available we will use wood chips and allow it to break down before planting.
When planting, pull back the hay and use a small hand spade to penetrate the newspaper and set the depth for transplants. One can also plant seed in rows the same as you would normally plant in a garden after going through the newspaper. The benefits in this planting method are water conservation, insulation factor of hay during summer and winter seasons, dramatic reduction in weed growth, (most gardeners lay a weed barrier directly on the ground surface and this will not affect weed seed in the compost) as well, with the compost directly on the ground it allows quicker nutrient availability from the compost into the soil.

ORCHARD RESURRECTION / PLANTING
Coming…
FOOD FOREST ESTABLISHMENT
Coming…
HUGELKULTUR CONSTRUCTION
Coming…
TRANSITION KITCHEN SET-UP
designed to help as we build the seven different villages, to expand our food preparation ability as part of the .
Coming…
THE SECOND TEAM:  FOR 20-50 PEOPLE
Coming…
THE THIRD TEAM: POWER FOR 50-100 PEOPLE
Coming…
THE FIRST FIVE YEARS: POWER FOR 100-400 PEOPLE
Coming…
THE LONG TERM: POWER FOR 400+ PEOPLE
Coming…
RESOURCES
Here are some great videos showing both what is possible and why you might want to care:
SUMMARY
One Community wants to help people to grow their own high quality and diverse food. We believe if we can make this easy enough, affordable enough, and attractive enough, it will provide a clear path to increasing health, biodiversity, and individual and global food security. It also has the potential to revolutionize the way people look at and interact with the food they eat. As part of our self-replicating and self-sufficient teacher/demonstration communities, villages, and cities model, this could also address world hunger.
FREQUENTLY ANSWERED QUESTIONS
Q: Is One Community going to be a vegetarian community?
The One Community team consists of vegans, vegetarians, and omnivores. In accordance with our philosophy for The Highest Good of All we are maintaining a non-idealogical approach to food choices. That said, also in accordance with this philosophy, we will only support and consume food items that are ethically and sustainably raised, managed, and produced. The consensus process will be used to decide the evolution of the One Community food plan.
Q: I'm an omnivore or vegan, what if I don't want to eat a vegan or omnivore diet?
The complete food self-sufficiency transition plan is designed to meet the needs of all dietary preferences through:
Recipes that can be made vegan or omnivore:

Vegan recipes were chosen that could easily have animal-based proteins added for omnivores
Omnivore recipes were chosen that could easily be made with 100% vegan ingredients

Alternating weeks of omnivore and vegan focused menus: The weeks are alternating so that we could design complete 1-week menus for each dietary preference to provide complete menus for both philosophies AND so that groups containing mixed preferences would have an equal way of focusing on each dietary preference for a week while still providing for the other preference as per #1 above. They alternate to address any concerns that recipes aren't as good when a vegan recipe is made omnivore just by adding animal protein, or an omnivore recipe is made vegan just by replacing all animal-based ingredients.
In this way all dietary preferences can be provided, any sacrifices are shared in alternating weeks, and groups completely preferring vegan or omnivore options have clear menus they can follow for both choices.
Q: How do you intend to produce spices, mill grain for flour, cooking oil, etc. etc.
To us, "100% food sustainability" means we will demonstrate and open source share a model that doesn't need external food sources. Having achieved this, what we produce internally versus choosing to buy will be decided through the consensus process.
Q: What is One Community's stance on pesticides, herbicides, and fungicides?
If it is not safe to eat, we will not be spraying it on our food. Here's a video we feel is helpful in understanding why:
Q: Can people choose not to eat in the group dining hall?
Yes, the Duplicable City Center will provide group dining space and the kitchen, where people choose to eat is up to the individual.
Q: Would we be allowed to have a hot plate stove (single burner)/microwave/toaster oven in our private residence if we wished to cook apart from the rest of the community from time to time? 
Yes, people can supply their individual residences with these items if they want to.
Q: Do you plan to raise cows or other large grazing animals for milk or food.
Probably not due to the sustainability issues with this approach to food. This could however change if agreed upon through the consensus process.
Q: What if I want something that isn't on the community menu?
The community menu will be agreed upon through the consensus process. If a person wanted something not included on that menu, then they would be welcome to purchase and provide it for themselves.
Q: What if you are unable to meet your timelines for food self-sustainability?
We have funds built into our business plan to provide food for an additional year if necessary.
Q: I'm vegetarian/vegan, would I have to participate in any part of the process or raising animals for food and/or eating/cooking them?
No, you would not have to participate in any aspect of One Community's food diversity that didn't agree with your personal beliefs and preferences.

Q: What sets One Community apart from similar projects?
One Community's open source project-launch blueprinting strategy and the fact that we are open sourcing and addressing ALL elements of society simultaneously are a combination unique to our organization. Together, these will help others duplicate what we do and create self-propagating teacher/demonstration communities, villages, and cities capable of positively impacting every single person on this planet within one generation.
Q: What sets One Community's open source goals apart from similar projects?
To our knowledge, no other project exists that is providing the comprehensive nature and detail of everything we are open source project-launch blueprinting.
Q: What is the specific One Community short-term goal?
Q: What is the ultimate One Community long-term goal?
To transform our world into a sustainable and happier one through teacher/demonstration communities, villages, and cities to be built all over the world. We will work with these hubs as our open source partners and fellow leaders of the open source, Highest Good of All, and sustainable planet movement leading to a New Golden Age of cooperation, collaboration, innovation, creativity, sustainable living, and increased happiness for the entire human organism.
Q: How are you funding One Community?
We are still seeking funding. Please see our Funding Related Details Page.
Q: Where will One Community be located and why?
Click HERE for property details that include why we have chosen the location we have.
Q: How far is One Community in the creation process?
Visit our progress page for a regularly updated list of our accomplishments and progress. Visit our blog for our on-going mini-updates and weekly summaries of accomplishments and progress.
Q: Why not just build a small-scale prototype home or community that includes a minimum-scale revenue-generating demonstration/operation? Wouldn't this get things going faster?
This small-scale operation already exists as Airbnb. What we see as missing is a complete model for self-sufficiency that is open source and reasonably replicable. Even complete models for self-sufficiency already exist in the form of the many eco-villages out there. What none of those offer though is any sort of understanding and/or path for how average people can replicate them. We also think there isn't enough of a compelling reason for most people to bother with changing how they live now to engage such a path/project, so our project is purposed to provide and demonstrate that too.
From a total global-change perspective though, we think it is even more important to create a permanent example:
This is why the intended property, village models, social architecture and economic focuses are all big. To support faster and broader implementation, we are also developing everything so it is modular and implementable as individual components. This will allow for anyone who doesn't desire the full teacher/demonstration hub approach to have options too, but our primary goal is to demonstrate the complete teacher/demonstration hub as easy enough, affordable enough, and attractive enough for average people with average means to want to replicate it and/or use what we provide to build their own version.
Q: If you are giving everything away through open source, how do you intend to make money?
Our model is designed to prosper specifically because we are giving everything away through open source project-launch blueprinting. We accomplish this through eco-tourism marketed with the open source infrastructure we have already created and other supported revenue streams outlined on our revenue streams page. All of this further promotes our model of spreading sustainability and actively promoting and distributing even more open source blueprints for duplication by as many people as possible.
Q: How will this help people in Third World countries and other areas that need resources most?
Using the four-phase strategy above, we wish to demonstrate building a teacher/demonstration community, village, and/or city as profitable for large investors and/or a way for small groups of people to pool what resources they have and get out of debt. We see this spreading and bringing resources to the areas that need them most because building these villages in these areas will be more affordable and easier to do with less building restrictions.
Q: How do you stop the model from being totally capitalized without the positive intent of the original model? 
We are not focused on putting limitations on the use of everything we are creating because of our open source commitment. We will, however, directly support any organization contributing specifically to open source project-launch blueprinting and operating for The Highest Good of All.
Q: Where would I find a more detailed description of how this works?
Please visit our About Us page, Methodology page, and Site Map for more comprehensive descriptions and links to complete details for every aspect of One Community.
CONSULTANTS ON THE HIGHEST GOOD FOOD DESIGNS
Avery Ellis: Aquaponics Specialist and owner/operator of Integrated Aquaponics
Bear Stauss: Horticulturalist and Landscape Design/Recreation Area Management Specialist
Benjamin Sessions: Strategic Sales and Real Estate Development Entrepreneur and Food Connoisseur
Bupesh Seethala: Architectural Drafter & Designer, BS Electrical Engineering (BupeshSeethala.com)
Charles McLean: Architecture & Urban Agriculture Designer, Professor, and owner of OM Greengroup
David Sweet: Architect (DSweet.biz)
Douglas Simms Stenhouse: Architect and Water Color Artist (see: transparentwatercolor.com)
Jae Sabol: Certified Permaculture Designer, Project Manager, and Holistic Health Professional
Kim Braman: Apiary and Beekeeping Expert
Ron Payne: HVAC / Thermal Designer, Mechanical Engineer
Sandra Sellani: Business Author, Speaker, Consultant, and Vegan Chef
Tatyana Tertitsa: Organic Gardener, Natural Builder, and 3D Sketchup Designer
Zdenek Jurik: P.E. Structural, Civil and Mechanical Engineer and founder of ABC Engineering
OPTIONS FOR PARTICIPATION
SUGGESTIONS     ●     CONSULTING     ●     MEMBERSHIP     ●     OTHER OPTIONS